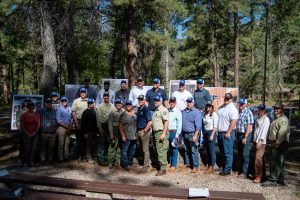 SALT LAKE CITY (July 17, 2023) – Today state, federal and local officials visited forest management projects to see how Utah's land managers are proactively addressing the wildfire crisis. Gov. Spencer Cox hosted Deputy Chief Chris French and Intermountain Regional Forester Mary Farnsworth with the U.S. Forest Service; Regional Conservationist Astor Boozer and State Conservationist Emily Fife with the Natural Resource Conservation Service; Legislators; County Commissioners; Department of Natural Resources Executive Director Joel Ferry; Brig. Gen. Kurt Davis, director of the Joint Staff, Utah National Guard, and more. 
"This has been a great opportunity to see project areas where we are working with our partners to manage our forests proactively," said Gov. Cox. "This work can't be done by one agency. By practicing shared stewardship, we can address the wildfire crisis on all lands through jointly identified priorities and shared resources."
The Utah Army National Guard flew participants on a UH-60 Black Hawk and a UH-72 Lakota helicopter over projects underway in the Beaver River watershed and Monroe Mountain. They also discussed the 2018 Dollar Ridge Fire, which consumed more than 68,000 acres and impacted the watershed, which has cost the Central Utah Water Conservancy District over $30 million to address and rectify.
"In looking at the landscape as a whole, fire suppression has caused fuels to build up over the last century. Prescribed fire is an important part of creating resilient forests and forest systems," said Jamie Barnes, State Forester and director of the Division of Forestry, Fire and State Lands. "This overgrowth of fuels has created unhealthy forests and threatens our communities and the watersheds Utahns rely upon."
"The Utah Guard supports the state on an annual basis helping fight fires and participating in flood management discussions; the opportunity to collaborate with the governor's office and shared stewardship aligns with the National Guard's efforts to mitigate the loss of life and damage to public lands and property. We look forward to our continued partnership with the governor and shared stewardship to protect communities, Utah's citizens, and the environment," said Col. Erick Wiedmeier, director of military support to civilian authorities.
The group stopped midway in Beaver to take a ground tour of the Beaver River project area.
–more–
"Viewing project areas both from the air and the ground provided valuable insight into the size and scope of the work taking place and the investment necessary to continue it," Joel Ferry, DNR executive director, said. "The Beaver River project is a shining example of how Shared Stewardship works with its cross-boundary collaborative approach to forest treatments within Beaver Canyon and the Beaver River Watershed."
The Beaver Ranger District and its partners plan, make decisions and implement large-scale projects which reduce wildfire risk, improve forest health, provide for sustainable recreation, increase water quantity and stimulate the economy.
"Touring the state with federal, state and local partners emphasizes the importance of ongoing collaboration and joint decision-making at all levels to meet our forest management goals," said Redge Johnson, PLPCO's director. "We will continue to promote meaningful coordination and joint decision-making to support statewide forest management through the state, local and federal efforts of the Shared Stewardship program and Utah's nearly two-decade-old Watershed Restoration Initiative."
Since the initial Shared Stewardship agreement in 2019, more than $20 million from state and federal appropriations has been invested in active forest management projects on a cross-boundary and landscape scale. In 2022, Gov. Cox signed an updated Shared Stewardship Agreement to re-establish the state's commitment to work collaboratively with federal partners to improve forest health and create resilient forest systems to combat the ongoing wildfire crisis.
About Shared Stewardship
Shared Stewardship is a cooperative approach to managing Utah's forests. The program enables land managers to confront the urgent forest health challenges that are best solved by local, state and federal cooperation. Utah's Shared Stewardship agreement provides a framework for the state of Utah and the U.S. Forest Service to work together in cooperation with the Natural Resources Conservation Service and water providers to identify forest health priorities that focus on restoration projects. The primary goals of the projects are protecting communities and watersheds from the threat of large, unwanted wildfires. Through Shared Stewardship, we are opening our conversations to include not only the state and the Forest Service but communities, industry, organizations and users of our national forests. Shared Stewardship is about working with partners to do the right work, in the right place, at the right scale, and at the right time to benefit our citizens and the environment.
About Watershed Restoration Initiative
Utah's Watershed Restoration Initiative (WRI) is a partnership based program in Utah to improve high priority watersheds throughout the state. Since 2006, WRI has focused on improving three ecosystem values: 1) watershed health and biological diversity, 2) water quality and yield, and 3) opportunities for sustainable uses of natural resources. Since the WRI program was established, over 2,500 projects have been completed statewide improving nearly 2.4 million acres in Utah.
Media Contacts
Karl Hunt
PIO, Utah Division of Forestry, Fire and State Lands
Kthunt@utah.gov 385-249-6696