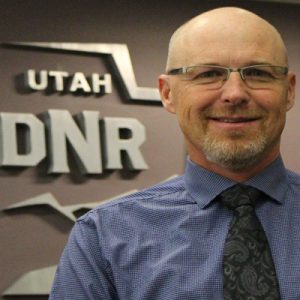 Utah Department of Natural Resources (DNR) Executive Director Mike Styler has named Jeff Rasmussen, deputy director of the Utah Division of Parks and Recreation, as the Division's new director.
Rasmussen has served successfully as the division's interim director since March, when former director, Fred Hayes, passed away unexpected at his home in Heber City. Rasmussen has more than 25 years' experience with State Parks and has served as the Division's deputy director since 2012. 
"If it's not broke, don't fix it. The Utah Division of Parks and Recreation has been successfully managed and thriving in recent years. Jeff's contribution to that success is obvious and commendable," said Styler. "Our state parks system is in wonderful shape. Jeff has tremendous passion and shares Fred's vision of success. We will move forward continuing to meet the growing needs of outdoor recreation in Utah and aggressively developing and creating new recreational opportunities statewide."  
Rasmussen began his State Parks career in 1992 as a park ranger at Antelope Island State Park. He was later assigned to Palisade State Park, where he served as park ranger for five years. In 1998 he became the assistant park manager at Yuba State Park and was later promoted to park manager in 2002. Prior to his assignment as deputy director, Rasmussen served as manager of the North Region overseeing the parks in that area.
"I'm thankful for the support and confidence placed in me to lead State Parks forward. Our 44 state parks and programs play a critical role in meeting the growing outdoor recreation needs of Utah families, including boating, off-highway vehicle adventures, hiking, golfing, camping and reliving our past at historical parks and museums," Rasmussen said. "The Division continues to experience significant growth year after year and we're committed to adding new and exciting recreational activities and amenities to meet the increasing demand."
Rasmussen came to Utah to attend Brigham Young University where he earned his B.S. degree in geography and a minor in natural resources.   
# # #