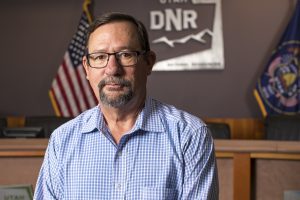 Salt Lake City – Utah Department of Natural Resources (DNR) Director Mike Styler has named Mike Fowlks the new director of the Utah Division of Wildlife Resources (DWR).
Fowlks has more than 24 years' experience with DWR and has been the agency's deputy director for the past five years. He has served successfully as the division's interim director since early June, when his predecessor, Greg Sheehan, accepted a leadership position with the U.S. Fish and Wildlife Service.
"Successful management of Utah's wildlife requires nimble and forward-thinking leadership. That's exactly what Mike brings to the table. I am so impressed with his vision, proactive leadership and commitment to active wildlife management," said Styler. "Our wildlife is in outstanding shape and under his direction, I'm confident it will remain that way."
Fowlks began his career at the DWR as a field conservation officer in the agency's Law Enforcement Section. He distinguished himself as a leader and quickly worked his way through the ranks, serving as the Law Enforcement Section chief for eight years. He also served as the agency's liaison with the Utah Legislature between 1997 and 2003.
"I am excited and humbled at the opportunity to serve as the Division's new director, and I share my predecessor's commitment to active, hands-on management of our wildlife resources. I believe that this is the only way to maintain thriving and robust wildlife populations," said Fowlks. "Utahns value wildlife. It's part of what makes our state such a special place to live. While challenges still exist, we are poised to handle them and excited to build partnerships that keep Utah's wildlife thriving."
Improving wildlife habitat and relationships with partners and customers is at the forefront of Fowlks's priorities. DWR is beginning a new era of research and discovery that will focus on the migration and habitat needs of wildlife. The agency will also continue to develop strong partnerships with key wildlife stakeholder groups and will leverage technology to improve hunters' and anglers' experiences.
Fowlks received his B.S. degree in zoology and animal biology from the University of Utah. He also graduated from the FBI National Academy for Law Enforcement Administrators and the National Conservation Leadership Institute.