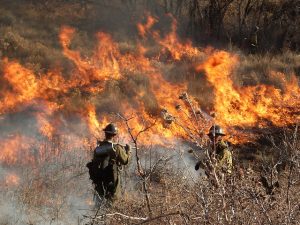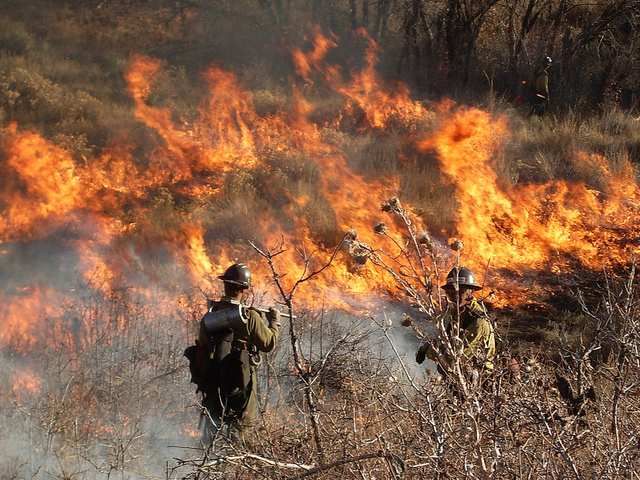 Temperatures are on the rise, and so is the risk of starting a wildfire. With Utah being in the top five driest states in the nation, it only takes one spark.
Thousands of Utahns will be recreating this summer, and should remain vigilant about wildfire safety. Over half of all wildfires in Utah are caused by people. In 2016, almost 60 percent of wildfire started in Utah were attributed to human activity. Every year, Utah firefighters fight more than 1,000 wildfires.
The Utah Department of Natural Resources worked with the Division of Forestry, Fire and State Lands for some tips to prevent wildfires this summer:
Equipment

Always mow your lawn before 10 a.m., but never when it is windy or dry out.
Keep exhaust systems, spark arrestors and mowers free of carbon buildup.
Use the recommended grade of fuel and do not top off.
Always keep a shovel and fire extinguisher close by.
Keep at least 10′ of clearance from vegetation when grinding and welding in wildland areas.
Campfires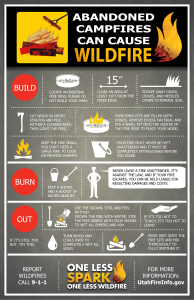 Use an existing fire ring to build a fire, not your own.
Clear an area at least 15 feet from the fire's edge.
Scrape away grass, leaves and needles.
Cut wood in short lengths and pile within cleared area.
Keep the fire small.
Never leave the fire unattended and completely extinguish when finished.
Keep a shovel and bucket of water nearby.
Use the drown, stir and feel method: Drown the fire with water, stir the fire with water, stir the fire debris with your shovel to wet all embers and ash.
Debris Burning

Check the weather to see if conditions are safe for debris burning. DO NOT burn if it is hot, dry or windy.
Keep a water supply and shovel close.
Keep debris burns small

—

 they are faster to control and at less risk to escape.
Clear all flammable material and any vegetation within at least 15′ of burn.
DO NOT burn any garbage. Only dried clippings, bushes, plants and prunings from vegetation on your property.
Always check for any fire restriction or permits in the area you intend to burn.
Vehicles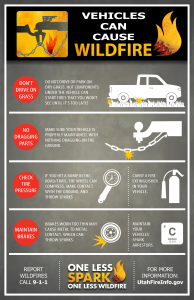 Do not drive or park on dry grass. Hot components under the vehicle can start a fire!
Make sure your vehicle is properly maintained with nothing dragging on the ground.
Check tire pressure. If you hit a bump, the wheel can compress, make contact with the ground and throw sparks.
Carry a fire extinguisher in your vehicle.
Maintain your brakes. Worn down brakes can throw sparks.
Maintain your vehicle with spark arrestors.