The Utah Division of Forestry, Fire and State Lands is responsible for ensuring forest health, responding to wildland fires and managing sovereign lands in Utah.
The Division prevents, suppresses and prepares for wildfires on state and private land ensuring that communities, watersheds, rangelands and wildlife habitat doesn't suffer catastrophic losses. Fuel reduction programs not only reduce the risk from wildfire, but promote overall forest health. Specific forest health programs are available to private landowners and municipalities who request assistance in managing their urban forests and forested land.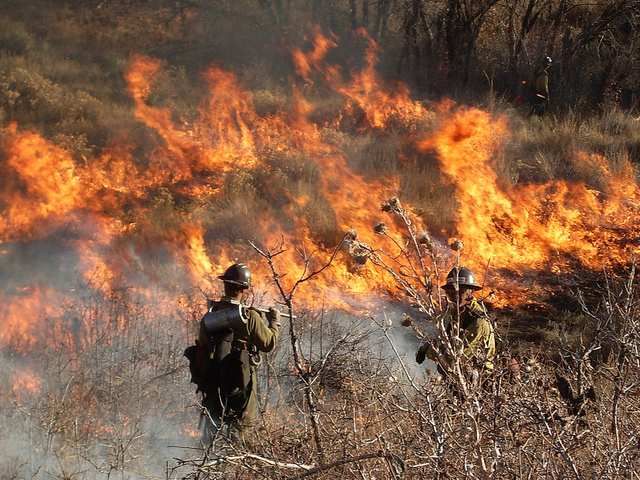 Wildfires that occur on state and private lands that aren't inside city limits are managed by the Division of Forestry, Fire & State Lands and coordinated through county fire wardens.
DNR works aggressively to remove invasive species like phragmites from the Great Salt Lake and Utah Lake. Its removal is necessary because of the amount of water it consumes.
The "State Lands" in the Division's title are almost exclusively "Sovereign Lands". They consist of the beds of some of Utah's rivers and lakes. The beds of the Jordan and Bear Rivers as well as portions of the Colorado and Green Rivers are state sovereign lands. The beds of Great Salt Lake, Utah Lake and Bear Lake are all managed by the Division under Utah's "Public Trust" doctrine.
Where do I report a wildfire?
You can always call 911 to report a fire. If you aren't sure and you want to file a smoke report, call your nearest Interagency Fire Center. There are several throughout the state:

Northern Utah 801-495-7600
Uintah Basin (Northeast Utah) 435-789-7021
Richfield (Central Utah) 435-896-8404
Moab (Southeast Utah) 435-259-2123
Cedar City (Southwest Utah) 435-865-4611
How do I get a Christmas tree or wood cutting permit?
Go to our Christmas Tree page for more information.
Where do I go to learn how to fight wildland fires or find a job as a wildland firefighter?
The Utah Fire and Rescue Academy provides training for firefighters. Please refer to their website for more information. You can also apply for a job as a wildland firefighter through the Lone Peak Conservation Center.
How can I help rehabilitate areas that have been burned by forest fires?
Each land owner will have their own rehabilitation plans for their respective areas. Please contact the specific land owner for more information, like the U.S. Forest Service, Bureau of Land Management, State lands and Private lands. You may also contact the Division at 801-538-5418.
Where can I find information on active wildfires burning in Utah?
Wildfires are managed by the Division and by our federal counterparts, including the U.S. Forest Service, Bureau of Land Management, National Park Service, U.S. Fish and Wildlife Service and Bureau of Indian Affairs. All these agencies report wildfire information to a collaborative state fire information website.