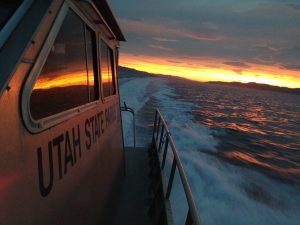 Missing kayakers were safely located and transported to the hospital after being reported missing on the Great Salt Lake Thursday afternoon.
The three Davis County kayakers, all 20-years-old males, had originally set out on their kayaks at noon on Thursday, September 19. Their original plan had been to spend the day paddling from island to island.
At approximately 3 p.m., hazardous weather caused the three to instead choose to head toward Antelope Island State Park to avoid increasingly dangerous water conditions. At times, waves on the lake reached seven-feet-tall. The three kayakers became separated from one-another after this change in course.
At 7:30 p.m., one of the men was able to safely make it to the shore of Antelope Island and called for help. Officials located the man and transported him to safety. He is not believed to have sustained any serious injuries and was not transported for medical services.
Search and rescue crews immediately began search efforts for the remaining two men. Utah State Park rangers, along with responders from Davis County, Tooele County, Weber County, and the Utah Department of Public Safety all responded to Antelope Island to assist in the search. Multiple boats, ground units, and helicopters were utilized.
The second kayaker was located on the west side of Antelope Island, in the water, just after midnight on Friday. The third kayaker was also located in the water, just south of that location, at approximately 1:30 a.m.
Both of these men were responsive to rescue personal. They were both transported to Davis Hospital and Medical Center for continued evaluation and treatment. The three kayakers were not wearing life jackets at the time of the incident.
The Utah Division of Parks and Recreation would like to thank all of the agencies and personnel involved in the successful search for these individuals.
We would also like to remind visitors that proper planning and outfitting should be essential parts of any outdoor recreation activity. Checking weather conditions, having functioning safety gear, making emergency plans, and ensuring safe practices on the water are all important.