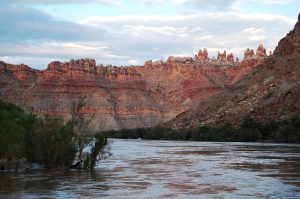 The Utah Division of Water Resources is hosting a Drought Contingency Plan Demand Management Workshop Friday, June 21 from 9 a.m. to 4 p.m. The workshop will be held at the Utah Department of Natural Resources headquarters, located at 1594 West North Temple, Salt Lake City.
Anyone interested in water demand management in the Upper Colorado River Basin is invited to participate.
State representatives and regional stakeholders will discuss the status of the Drought Contingency Plans and talk about proposed next steps to examine the feasibility of an Upper Basin Demand Management program within each state as well as regionally within the Upper Basin.
The division is looking to receive comment and input from interested water users and stakeholders on possible considerations in evaluating the feasibility of a successful Demand Management program. Registration is free!
RSVP by June 14 by emailing susan.jenkins@wyo.gov or call 307-777-6150.
# # #