Summer is here! Are you ready? The Natural Resources Map & Bookstore is the place to research your next outdoor adventure. We specialize in maps and guides for outdoor recreation including hiking, off-highway vehicles, rockhounding, hunting, fishing, and other activities.We are the state's official source for more than 1,500 USGS topographic maps, and we can print on demand any of the more than 55,000 topographic maps for the entire United States. We also have a unique collection of Utahcentric books on history and folklore, birds, flowers, outdoor survival, treasure hunting, wild game and outdoor cooking, petroglyphs, and more. It's time to gear up for the summer season. Come browse through our large selection of maps and books for all Utah outdoor enthusiasts published by DNR divisions as well as private publishers. Here are some of the great books the Natural Resources Map & Bookstore is highlighting:
The Mining Camps Speak: A New Way to Explore the Ghost Towns of the American West By Beth & Bill Sagstetter
If you have ever visited ghost town sites and were disappointed because there was nothing left, here is the book you've been waiting for. In these pages you will discover a new way to explore these mysterious sites. The Mining Camps Speak begins where other ghost town guidebooks end. It is the first book to guide readers around a site in Sherlock Holmes fashion. Using the techniques of a historical sleuth, you will learn to identify forgotten pieces of the past. You will see for yourself the lives that passed this way and you will hear the Mining Camps Speak.
Some Dreams Die: Utah's Ghost Towns and Lost Treasures By George A. Thompson
Some Dreams Die is the most comprehensive guide to Utah's ghost towns ever assembled. In the course of his research, the author visited the sites of over four hundred deserted communities and probed their unique histories. Some lay within sight of present-day cities, others are chance-encountered clumps of cottonwoods beneath whose boughs the plans and dreams of now forgotten people are remembered in weathered clapboard barns, corrals, and homes. Each is carefully described and located, making it simple for the reader to retrace the author's steps and visit these monuments to perseverance, gumption, faith, greed, and foolishness. Inside are 120 photographs and 12 detailed regional maps which make it the most useful book of its kind.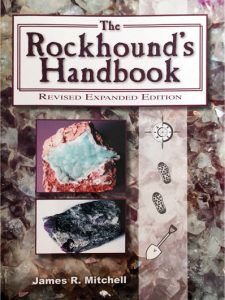 The Rockhound's Handbook By James R. Mitchell
Rockhounding—the popular term for the hobby of collecting rocks and minerals. But beyond the possibility of making a new find or valuable discovery, rockhounding offers all ages the opportunity to learn about the nature and history of our physical world, and to explore landscapes as diverse as the rocks and minerals found there. Numerous diagrams and photographs, a full-color insert of over 90 minerals and fossil specimens, an extensive glossary, and lists of government agencies and mineral museums make this an indispensable how-to book for the beginner and handy reference guide for the experienced rock collector.
The Natural Resources Map & Bookstore is located on the first floor of the Utah Department of Natural Resources building at 1594 West North Temple, Salt Lake City, Utah 84116. You can also visit the bookstore on line at
www.mapstore.utah.gov
.