Fall season is the perfect time to enjoy the great outdoors. Browse through our large selection of maps and books for all Utah outdoor enthusiasts published by DNR divisions and private publishers. Here are some of the great publications the Bookstore is highlighting to help you gear up for the fall season. 
A Family Guide to the Grand Circle National Parks
By Eric Henze
including Zion, Bryce Canyon, Capitol Reef, Canyonlands, Arches, Mesa Verde and Grand Canyon National Parks. A Family Guide to the Grand Circle National Parks is for everyone and has additional tips for families with children, including rich details of where to stay, what to do, plus park history and geology.
A Collectors Guide to Rock, Mineral & Fossil Localities of Utah
By J. R. Wilson
This publication contains detailed information about collecting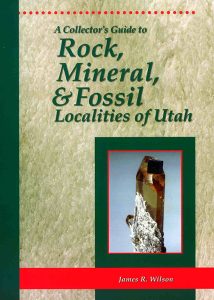 areas, divided by county for ease of use. Each collecting area contains information about the minerals, rocks, and fossils present, map recommendations, and other helpful tips on getting to the sites.This popular guide takes you through seven national parks, 
BLM Surface Management Maps
With hunting season just around the corner the 
Natural Resources Map & Bookstore can help you map and plan your hunt. Our BLM Surface Management Maps show land ownership by color and include public and private land, roads, and more.
The Natural Resources Map & Bookstore is located on the first floor of the Utah Department of Natural Resources building at 1594 West North Temple, Salt Lake City, Utah 84116. You can also visit the bookstore
online.
About the Natural Resources Map & Bookstore
It's the place to research your next outdoor adventure. We specialize in maps and guides for outdoor recreation including hiking, off-highway vehicles, rockhounding, hunting, fishing and other activities. We are the state's official source for more than 1,500 USGS topographic maps, and we can print on demand any of the more than 55000 topographic maps for the entire United States. We also have a unique collection of Utahcentric books on history and folklore, birds, flowers, outdoor survival, treasure hunting, wild game and outdoor cooking, petroglyphs, and more. It's time to gear up for the fall season. Come browse through our large selection of maps and books for all Utah outdoor enthusiasts published by DNR divisions as well as private publishers. Here are some of the great publications the Natural Resources Map & Bookstore is highlighting: